I began by asking myself...
does the world really need another rug company?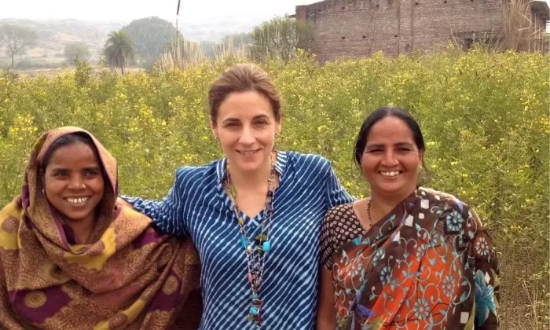 I can look at a room and instantly know what rug will look good in it.
I'm a 3rd generation rug merchant - I've been buying and selling rugs since I was 21.
So, did the world really need another rug company?
We think so. We're proud to offer rugs created in harmony with nature, sourced from all natural and organic ingredients.
What's the big deal about organic rugs?
There are 3 reason why we think buying organic home furnishings is important:

1. We spend 90% of our time indoors. Indoor air quality affects the quality of our health.
Better for you
2. Organic farming is better for the environment and for the animals and for the farmers.
Better for the environment
3. Organic manufacturing means that our artisans are not exposed to harmful chemicals.
Better for our artisans
Let's go back to indoor air quality...
When we walk on rugs or sit on furniture, the abrasion causes small particles to enter the air.
If there are harmful chemicals in our home furnishings, those chemicals enter the air, with potential negative health effects.
 We can inhale, ingest and absorb harmful chemicals.
We may be comprising our health when we expose ourselves to harmful and toxic chemicals in the products that we use every day.
Our rugs are non toxic: no pesticides, no flame retardants, no bleach, no toxic detergents & no harmful chemicals.
.
Anything else you want us to know about Organic Weave?
YES. All of our rugs are GoodWeave certified.
That means that is no illegal child labor in the production of our rugs. Since my first trip to India in 1991, I've been passionate about ending illegal child labor in India's carpet industry.
Does anyone ever call toll free (833) SAFE RUG?
Yes!
I'm in touch with 75% of our clients about design and colors and size and style.
I think that sets Organic Weave apart – you get to speak with the owner of the business (me!) and I follow your order from start to finish.
One of my friends calls me The Rug Whisperer.
I prefer The Rug Concierge!
Yes!
I don't expect anyone to buy Organic Weave rugs simply because they are healthy.
First and foremost, our rugs are impeccably handcrafted.
If you're buying a beautiful rug, why not choose organic?
I don't take your support for granted.
Thank you for choosing Organic Weave.